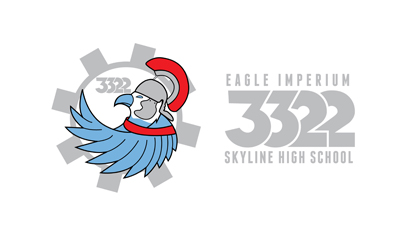 FIRST Robotics Competition
 is an organization founded to promote science, technology, engineering and math. By challenging teams of students to compete in various challenges, 
FRC
 engages students with adult mentors to learn and promote STEM within their communities.
Since 2010, I have participated as a mentor on FRC Team 3322 at Ann Arbor Skyline High School.
---
2013′s game
Ultimate Ascent
called for robots that were able to launch frisbees and climb a pyramid structure. Our team designed a robot that featured a rugged 2-speed drive-train that clocked in just over 15 ft/sec, as well as a low gear that produced enough torque to spin the wheels at stall. Based on our success from the 2012 year, we spent a lot of time designing a frisbee launcher for consistency. Although the robot was accurate and fast, we were plagued with frisbee jamming issues and a CAN bus freezing problem that led to mediocre season results.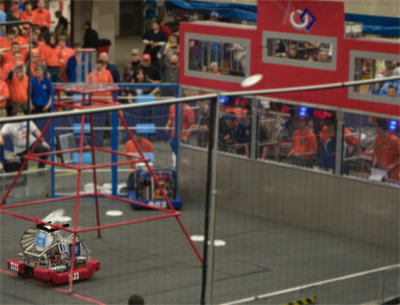 ---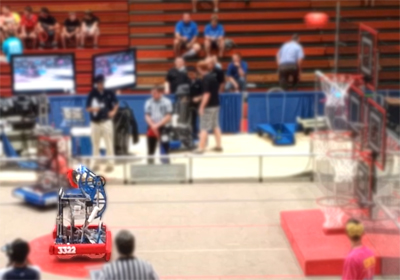 The FRC game for 2012 was called
Rebound Rumble
, which involved shooting 8″ foam basketballs into a series of hoops, and finally balancing on a bridge with other robots. Eager to correct our mistakes from the 2011 season, our team set out to built a mechanically robust robot. The result of our hard work was one of the most accurate basketball shooters that was built that year, along with a simple active ball collecting mechanism, a passive bridge-tipping mechanism, and our first 2-speed drivetrain. Our deadly-accurate shooting system was our strength, and behind it we had a great year, including our first ever district event win!
---
We competed in
Logomotion
during the 2011 season, where robots were supposed to grab large inner tubes of various shapes and hang them on a pegs to complete FIRST logos. Near the end of the game, teams attempted to deploy "mini-bots" to race straight up 10-ft metal poles. We built a mechanum-wheeled robot for ultimate maneuverability, along with  a telescoping lift and mini-bot deployment system. We had a lot of fun during the season, but spent too much time in the pit fixing broken robot parts.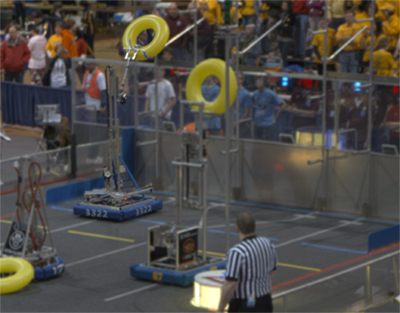 ---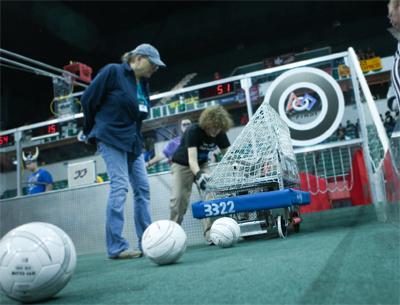 Our team started in 2010 with
Breakaway
– a soccer themed game where robots tried to kick soccer balls into small goals, and eventually climb one of two central towers. We had a grand total of one person with one year of experience on the team, so our focus was getting a robot on the field, not trying to build the best machine possible. Our result was a simple robot that featured a rotating flipper to kick balls. The simplicity of our machine proved to be a great asset, helping us win two rookie all-star awards, and one rookie high-seed award, along with our first trip to the Michigan State Championship